Just attended the Malcolm Greenwood Workshop at the Gold Coast Potters Association.
What a fantastic workshop!
Malcolm Greenwood is a fantastic potter, teacher, and human being!  He has also figured out how to make a living as a potter – designing and creating pottery for many restaurants. Check out his website here to see his amazing work:  HERE
Wow!  I learned so much!  I guess I was just at the right place in my potting career to HEAR what he said and showed us and it ALL made so much sense!
We learned how to make our own tools!
We learned how to make slabs without a slab roller!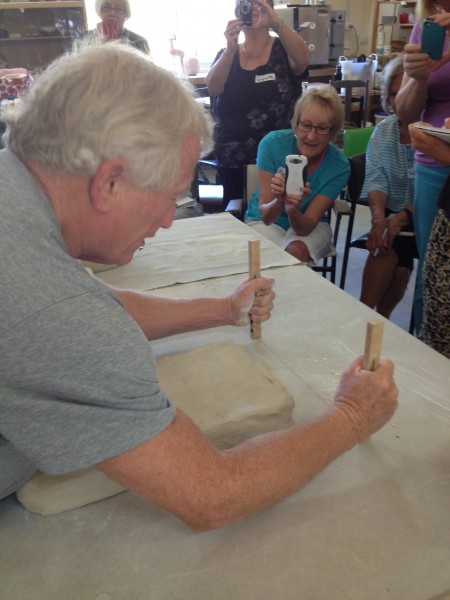 We learned about throwing without water!
We learned how to trim pots in an efficient manner!
And MUCH, MUCH MORE!!
I'm so eager to try all the tricks of the trade that he shared with us!  He was super generous with ALL of his information!  No secrets with him!  We got it all.
If you get a chance to go, don't hesitate!  It is awesome!  You will learn so much!
Upward and onward!
Luv,
Marian