I decided for my contribution to the exhibition entitled Fragility at Sheoak Gallery at Fingal to do Raku'd Balloon Bowls and Garden Totems.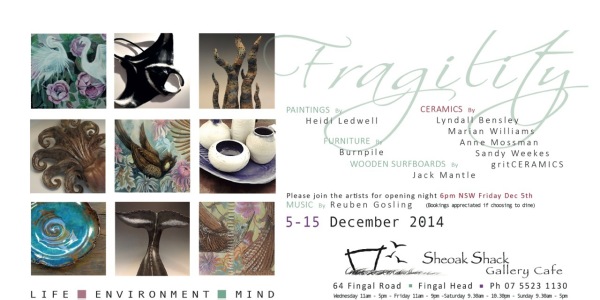 So I set about making Balloon Bowls and Garden Totems.
While talking to my bestie, Judith Wagenseller from OKC, Oklahoma, USA, I discovered that I should share my instructions for making these Balloon Bowls as they are quite fun, a good class project and look awesome raku'd.
First of all, I must give credit to Tea Tree Studios, Anna Couper and Angela Walford for the great inspiration and their process photos that I saw on Facebook!
The Balloon Bowls require the acquisition of certain pottery making skills, so would make a great class project:
rolling a slab
texturing a slab
making slip
applying slip
making joins of clay edges
use of oxides
– Quite a lot of stuff in one project, but I encourage you to try it!
Here is a pictorial tutorial of how I made them:
Judith and daughter, Hattie, set about making their Balloon Bowls and these are some pics of their process and results – pretty great!!!  I love their cat in the photos – he's soooo into pottery!!!