As a Texan/Australian (yes, I have dual citizenship!), I decided to incorporate some Australiana into my pottery.
I decided to make a bowl with gumnuts on the edge as a textural element.  Gumnuts are "The hard woody fruit of trees of the genus Eucalyptus."  Source
When I googled gumnuts to find out about them, I discovered that there was a book, entitled Gumnuts & Glazes: The Story of Premier Pottery Preston, 1929-1956.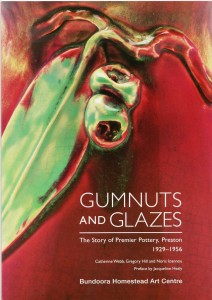 The book synopsis reads thus:
"Gumnuts, eucalyptus leaves and koala motifs combined with dazzling glazes have made Remued pottery, created at Premier Pottery Preston, a collector's delight. This publication is the first to comprehensively catalogue the contribution of Premier Pottery to Australian ceramics.
"Premier Pottery Preston was set up by two potters, David Dee and Reg Hawkins, in 1929 during the Great Depression. It  began production in 1930, located in the northern Melbourne suburb of Preston at 52 Oakover Road. Most Australian art pottery at the time was produced as a sideline by firms whose main business was making tiles, pipes, insulators and the like – albeit an important sideline in terms of surviving the hard times of the Depression. Premier Pottery Preston was a small undertaking, unusual in that it produced only art pottery, all of it hand-thrown. David Dee threw the pots, Reg Hawkins painted them, and David's son Walter Dee did the glazing and firing." Source
Ceramics expert, Greg Hill, discusses the design, manufacturing and marking system of the pottery and, for the first time, the sequence and meaning of the markings on the base of the pots is explained. In addition, cultural historian, Noris Ioannou, in his essay, Depression to Celebration, places the achievements of the individuals and the pottery in a social and cultural context."
– See more at:  This link
So, there you have it!  My little project led me to a wonderful look into a bit of Australian Ceramic history!
And here's my bowl!
My stab at Australiana pottery!
Peace out, my pottery buddies!
Marian