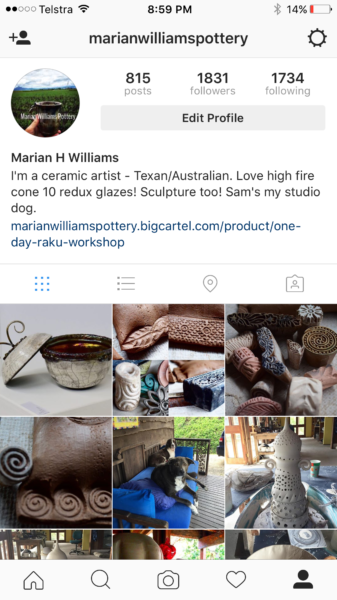 Sometimes I think that looking at everyone else's work on Facebook  and Instagram is counter-productive.
I find myself second guessing why I'm making what I'm making, wondering if I should emulate some of the more "successful" potters on Instagram, Facebook, Etsy, etc.
I look at how many "likes", views and comments I've gotten…and then compare those numbers with others.
I feel myself becoming frustrated at goals not achieved that I never really set for myself.  I become critical of my work, my postings, my approach.
So when did it become about numbers, money, success.  When did I move from just creating for joy and start creating for others?
Well, it's not a good way to work!  I'm going to start making a conscious effort to avoid the constant Facebook perving, the Instagram obsessions, the Periscope stalking and get to work on MY Creativity.  To hell with what's in style…I really don't care and I really don't want to feel competitive to every other potter out there.
I want to be happy for each person's success and their creativity.
Just saying'…I needed to vent.
So now, back to making pots!