This year's Mud Trail aka Northern Rivers Open Studios aka Australian Ceramics Open Studios has come and gone.  It was a great success, lots of fun, and ultimately a good experience.
We decided on a theme of Food and Flowers.  Tara is a florist (her day job!) so her ability to arrange flowers was apparent- it looked so professional!
We made lots of vessels for displaying flowers and plants and this definitely made me move to a new style of work.  I made a lot of tulipieres – Originally made by Delft – such fun!
I made a version of this piece:
Tara filled it with flowers and it was just spectacular!
Here's a pictorial review of the weekend.
I have to say one of the highlights for me was working with Tara Dyson-Holland, a friend/artist/ceramic artist.
Her studio was recently destroyed in the Murwillumbah Flood of 2017- completely under water.  She lost all of her work…her painting, her ceramics, the last 3 years of her creative life.
In an effort to heal and get past this horrible ordeal, Tara started making art on discarded boxes – 100 boxes in 100 days.
As a result, she placed her boxes as an art installation at my studio, with a written explanation of the process, her thoughts.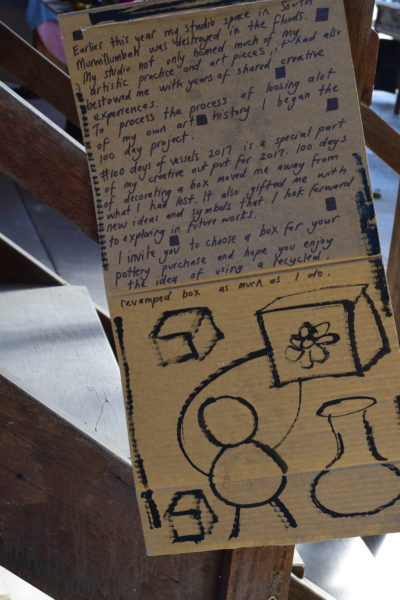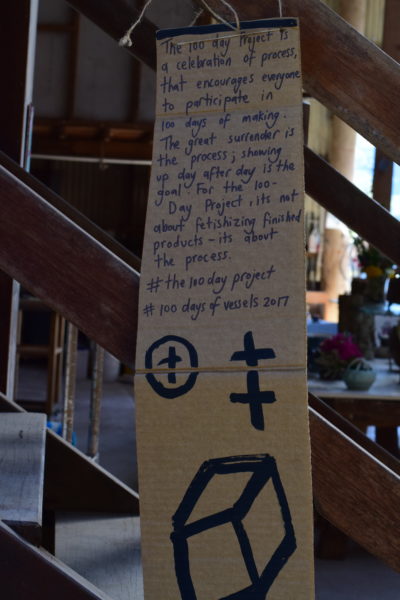 When someone purchased a piece of ceramics, they were "gifted" one of Tara's painted boxes to house their piece.  Everyone loved it!
And one of the best parts was hearing Tara say that talking with people at the Open Studio weekend made her realize that "she's over it" … she has healed and has now moved past her loss.
Art is the great healer.  Art is great therapy.  Art is life.  Or is it that life is Art?  It's all the same to me.
Peace out,
Marian